Inclusive Ice Program
Sled Hockey and Skating at Kotler Ice Arena
Sled Hockey Schedule at Kotler Ice Arena
2022-2023 Sled Hockey Saturdays
Please join Teton Valley Foundation at the Kotler Ice Arena for Adaptive Ice Programming which includes sled hockey and skating. Everybody gets on the ice at this program!  They have sled hockey equipment like pictured above,  rental skates, helmets, gloves, plus "learn to skate" equipment. Programming is certain Saturdays starting 11/26. Please visit their website for an up-to-date calendar and details. SIGN THE TVF WAIVER and fill out the Inclusive Ice Programming Intake Form which will be emailed to you before you arrive. We want to be efficient with our ice time! Please arrive 15 minutes early to be fitted to the equipment.
Sled Hockey Saturdays in the 2022/2023:
November 26, 2022 (10:30-11:30am. Arrive 10:15.)
December 31, 2022 (9-10am. Arrive 8:45)
January 7, 2023 (9-10am. Arrive 8:45)
January 14, 2023 (9-10am. Arrive 8:45)
February 11, 2023 (9-10am. Arrive 8:45)
February 18, 2023 (9-10am. Arrive 8:45)
March 11, 2023 (9-10am. Arrive 8:45)
March 18, 2023 (9-10am. Arrive 8:45)
Ice time for most sessions: 9:00 – 10:00am
Please show up: 8:45am.
Register Here (Kotler's Easy Registration)
DETAILED INFO:
We will provide sleds, sticks, pucks, and helmets.
Please dress warmly in layers, wear hiking shoes (or skates, if you have).  The rink is indoor/outdoor and can be cold. There is a very warm, accessible observation room with accessible bathrooms.
Skates are available for rent.
Kotler Ice Arena is located at 380 S Agate Ave, Victor, ID 83455
See you there!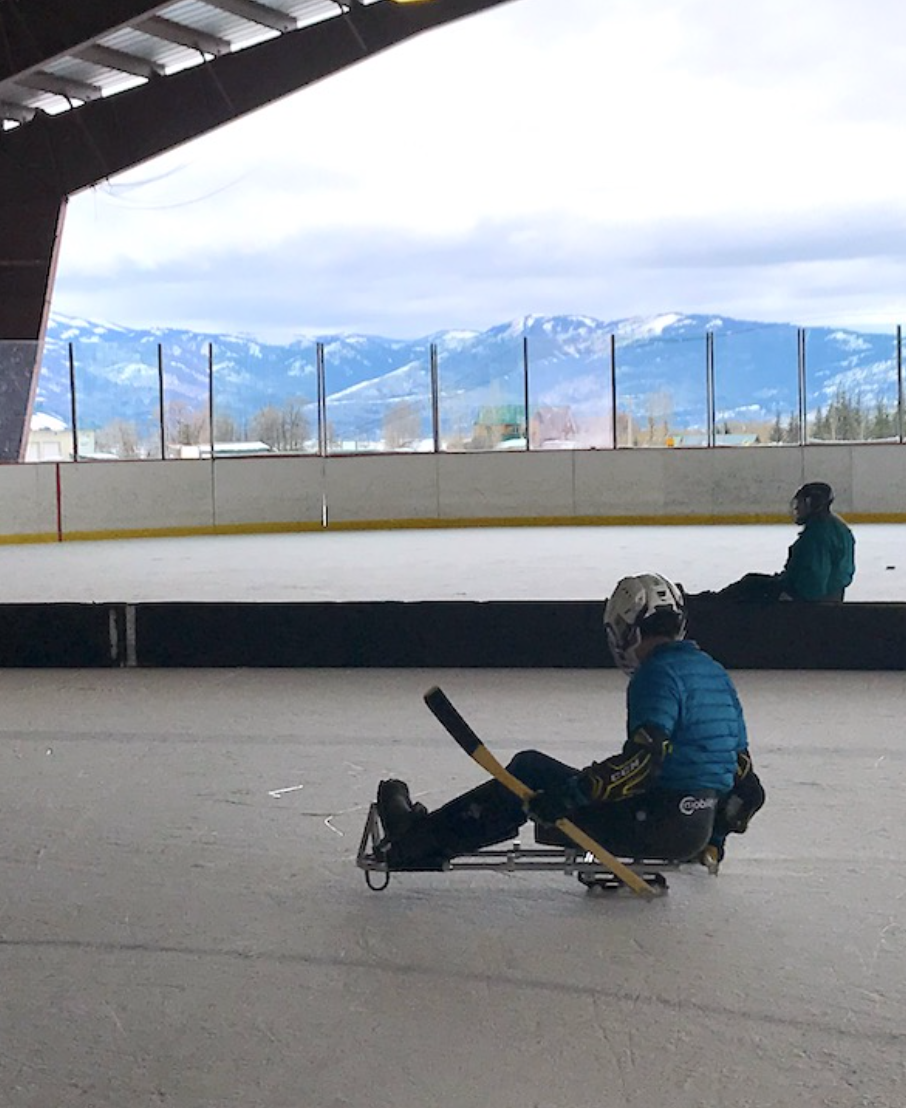 Learn More About Sled Hockey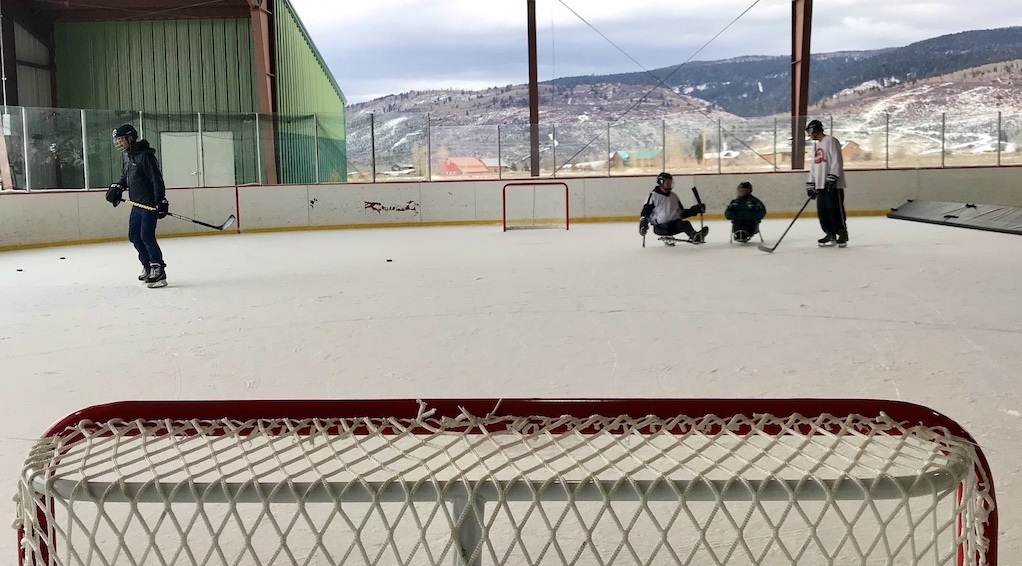 Why do we like skating and sled hockey?
It's fun, accessible, and efficient! Teton Valley Foundation has worked hard to make Kotler Ice Arena inviting and accessible. They have built an expanded warming hut, wheelchair ramps, ample dressing rooms and accessible bathrooms. The staff is supportive and stoked about getting you on ice! Hockey is efficient. Show up, 10 minutes of set-up with equipment, slide down the ramp onto the ice, skate, sled, pass the puck, shoot the puck, break a sweat (you're seldom cold when you're out on the ice), 60 minutes of fun and you're done.
What does skating or sled hockey at Kotler Ice Arena look like?
Learning to skate or sled can be intimidating. We have equipment and knowledgeable helpers to get you started and teach you the basics. Rental skates, on-ice walkers, and hockey sticks are available. Want to try sled hockey? We have five sleds provided by a grant from USA Hockey and five more donated by Teton Adaptive Sports. We have pusher bars if you need assistance. Everyone in the program is provided helmet, gloves and elbow pads. See some instructional videos below including Paralympic team members showing Sled Hockey 101 skills, a sled hockey setup, and a sled hockey pusher!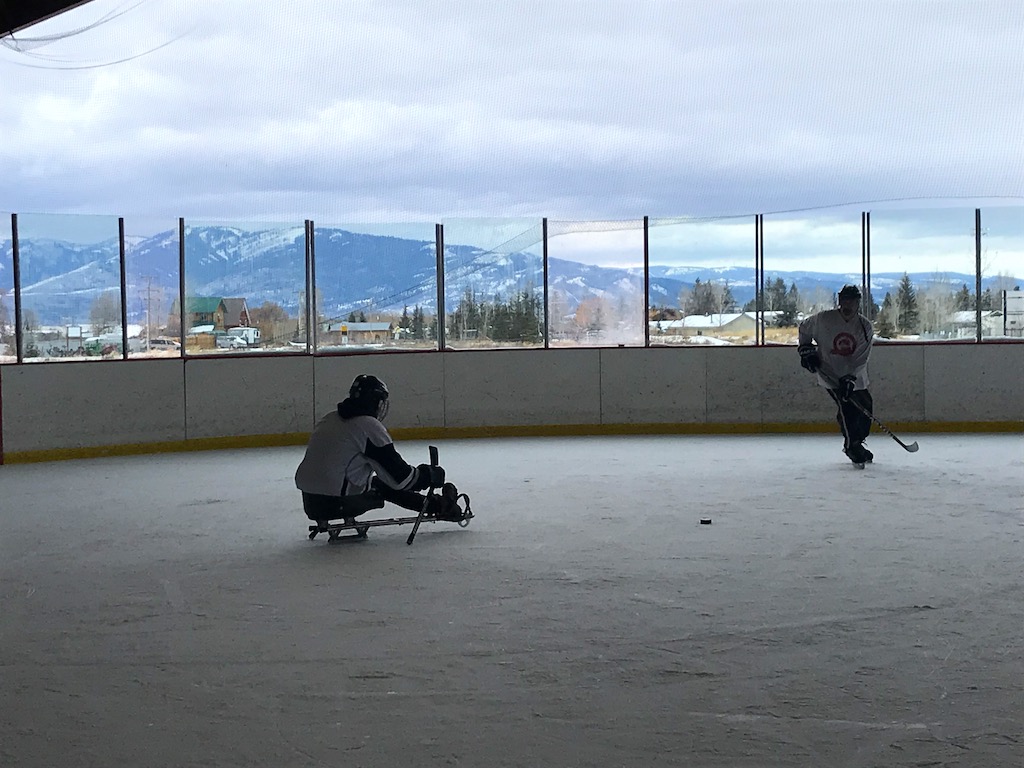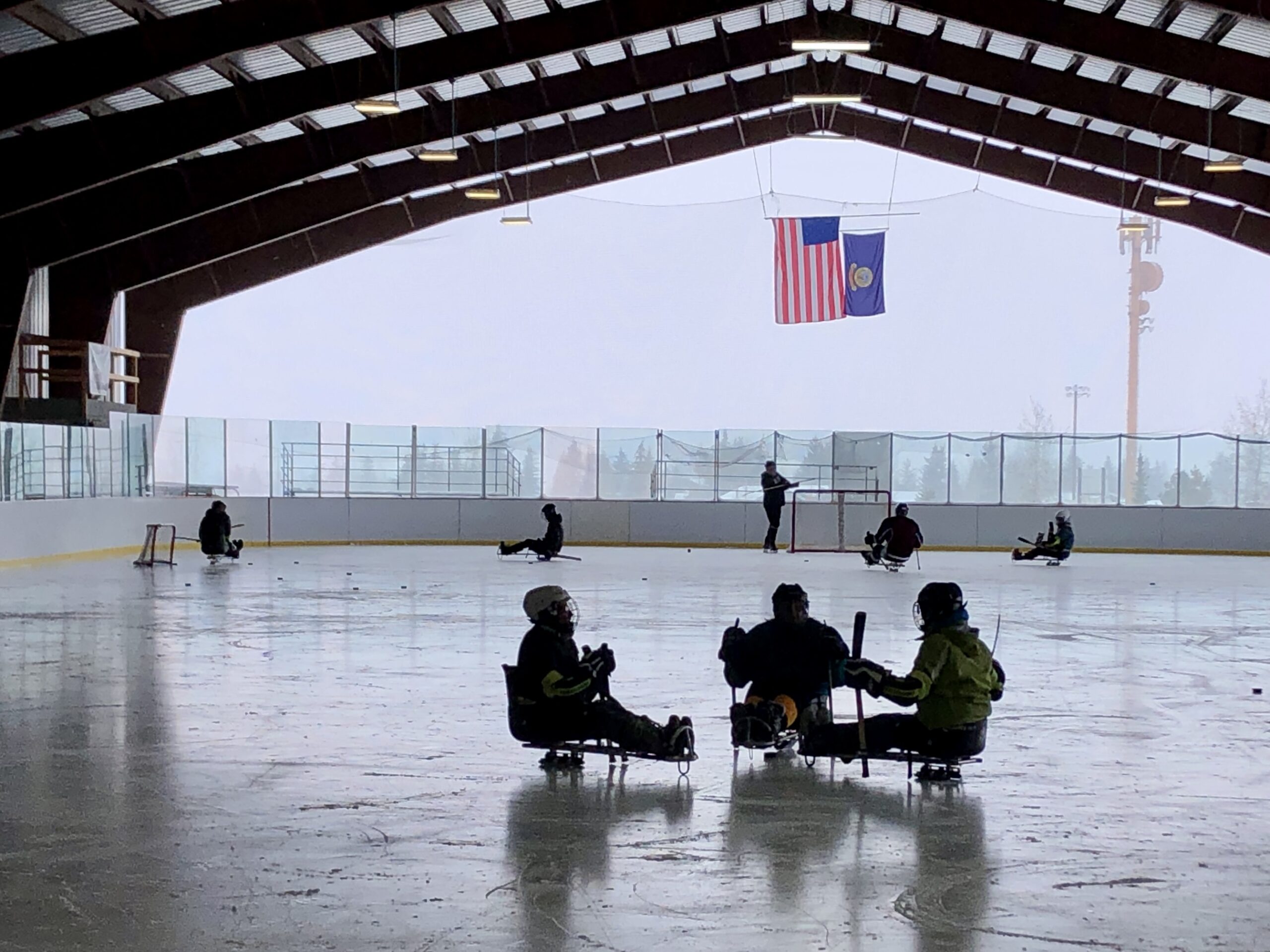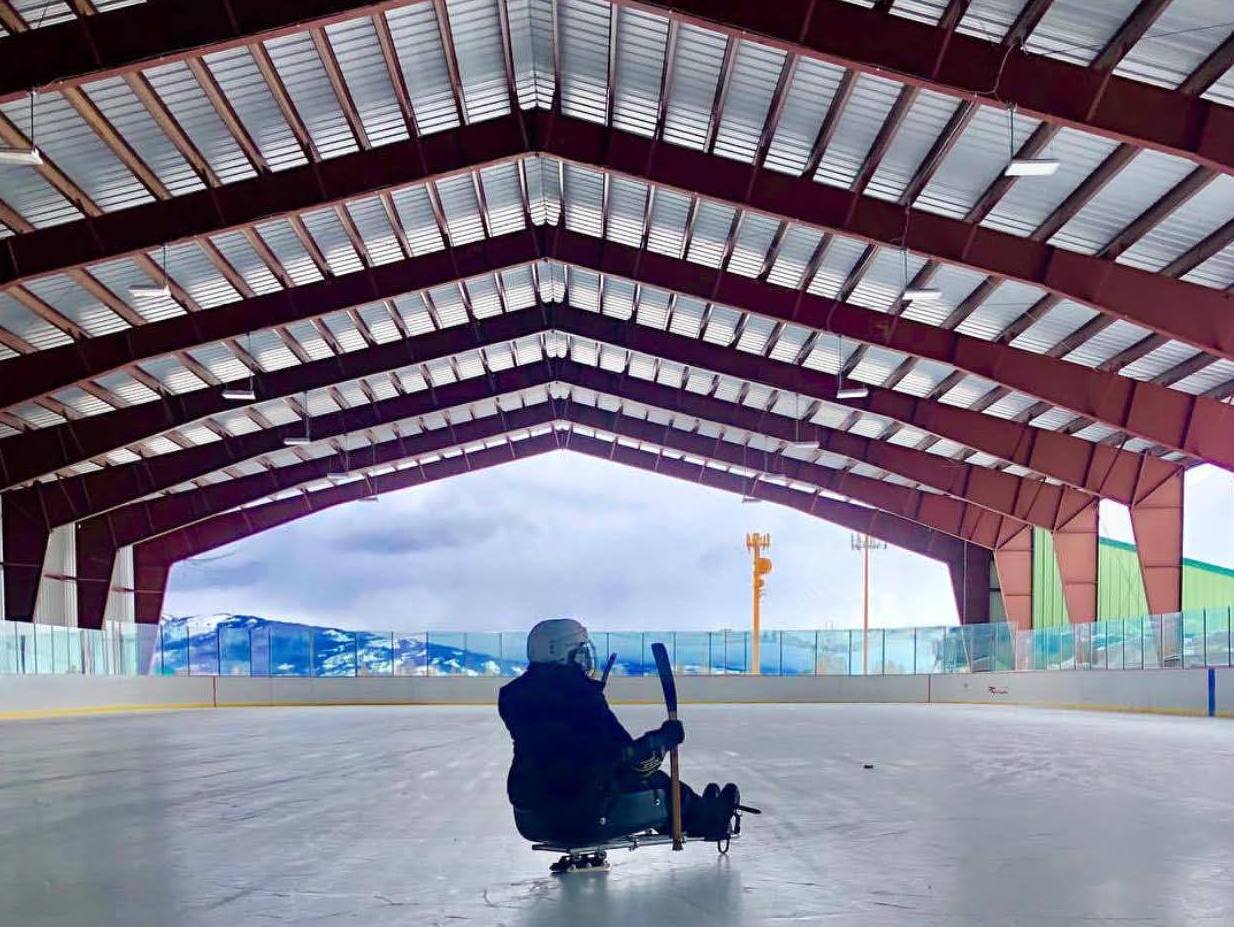 Who Makes Sled Hockey Possible?
Teton Valley Foundation and the Kotler Ice Arena Staff work hard to make skating and hockey fun and available for the Teton Valley Community. The amazing capital campaign to install "chillers" at the rink in 2018 allows for a predictable 17 weeks of solid ice. Valley Adaptive Sports supports the Inclusive Ice and Sled Hockey Program.  For 2022, the training and new equipment is made possible by a grant from The Gibney Family Foundation.  Your donations via the CFTV Tin Cup Challenge have funded our ice time. Special thanks to our wonderful volunteer crew who make the ice time fun. If you have a passion for skating, please volunteer this year!
Instructional Sled Hockey Videos
Paralympic team members showing Sled Hockey 101 skills.
This is a sled hockey setup video.
This video shows a sled hockey pusher.
Subscribe to Our Newsletter for Updates!
Valley Adaptive Sports is a 501(c)3 non-profit located in Teton Valley, Idaho.
EIN 84-5145284